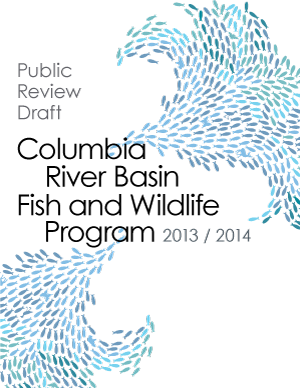 A revision of the largest regional fish and wildlife recovery program in the nation includes actions to improve ecosystem function, protect wild salmon and steelhead, eradicate invasive species, and restore fish runs to areas where fish passage has been blocked by dams. The Council today released a draft version of its 2014 Columbia River Basin Fish and Wildlife Program for public review.
The program directs more than $250 million per year to mitigate the impacts of hydropower dams on fish and wildlife in the basin. The Council revises the program every five years, and the current draft has been under development since the summer of 2013.
As required by the Northwest Power Act of 1980, the Council developed the draft program based on public recommendations, particularly those of fish and wildlife agencies and Indian tribes. In addition to protecting ecosystems and wild fish, the draft program includes these key points:
Give greater attention to salmon and steelhead passage into blocked areas, notably above Chief Joseph and Grand Coulee dams
Give greater attention to reducing toxics and eradicating invasive species
Focus on repairing aging structures and equipment related to projects that implement the program
Pursue a targeted project-selection process for emerging priority fish and wildlife issues
The Council will conduct public hearings throughout the Northwest beginning late this month and continuing into June. Hearings are being scheduled, and a list of places and times will be posted on the Program page. Comments may be submitted by mail and email as well as in person at the public hearings. See above link for instructions.