Chad Madron
Senior Division Coordinator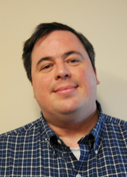 Chad handles project analysis and management for the power division. He is responsible for project timelines, staff coordination, and communication for the power plan and related work products. Chad is the primary point of contact for the Council's advisory committee meeting process and related communication.  He also helps with coordination of the Regional Technical Forum's meetings, webinars and website. During Power Committee and Council meetings you will find Chad acting as A/V lead and working with the team to make everything look and sound just right.
His career history includes working as a Project Support Specialist for the strategic planning group within corporate strategy at the Bonneville Power Administration and time as an Internal Business Analyst in Nike's equipment division. He has a B.A. degree in Communications. 
Outside of work, he enjoys spending time with this wife and three sons, improvisational comedy, performing at ComedySportz Portland, and getting lost on purpose at Powells books.