(This is an archive of the Wind Integration Forum which concluded in 2012.)
The Wind Integration Forum (WIF) is a joint effort of the Council and BPA for the purpose of addressing regional issues around accommodating the unique characteristics of wind generation on the Northwest power system. Wind generation has experienced rapid growth in the region since the first modern commercial scale wind power plant was built in 1998.
Addressing whether the region could reliably accommodate the 6,000 MW of wind generation envisioned in the Council's 5th Power Plan was the first task undertaken by the WIF. The 2007 Wind Integration Action Plan was the result of that effort.
By the end of 2011 the region will already likely have about 6,000 MW of wind generation in commercial operation. Questions about the ability of the system to accommodate even higher levels of wind generation were the topic of the June 6, 2011 WIF Steering Committee meeting. The many activities occurring in various Northwest venues to more efficiently integrate wind resources were discussed, and a new set of seven action items came out of that meeting.
Top issues and activities
Steering Committee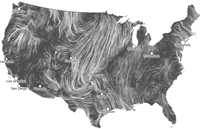 Wind flow map; see current
U.S. wind flow patterns
Meetings