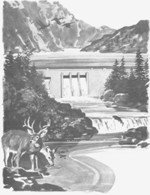 In February 2009 the Council completed a 2-year process to amend its Columbia River Basin Fish and Wildlife Program.
Amendment process:
Related reports:
Additional guidance: Our current thinking on key program topics. Please read and consider when developing recommendations.
Resources:  
These published reports and background information will be helpful in preparation of recommendations.
Other background material:
Contacts:
Patty O'Toole and Lynn Palensky
Council staff, 503-222-5161