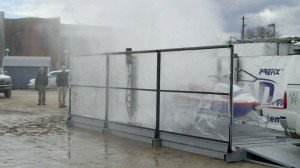 The Shoshone-Paiute Tribes of the Duck Valley Indian Reservation unveiled the first-of-its-kind boat wash decontamination system in a recent demonstration at the Boise, Idaho office of the Bureau of Reclamation. The tribes purchased the system to protect their waters from an infestation of quagga and zebra mussels. The tribes depend on the Owyhee, Snake, and Columbia rivers, as well as Wildhorse Reservoir and the Duck Valley Reservation lakes and streams.

The tribes purchased the system from the Prefix Clean Company, which designed and built the system to the specifications provided by invasive species experts in the Northwest. Watercraft are pulled across the wash platform while hot water is sprayed over them for a specified time to assure that the species are killed. The wash water is collected, filtered, purified, and reused. The solid waste is captured in the filters and collection basins to be placed in containers and deposited in a landfill. Hot water and electricity is provided by the self-contained unit.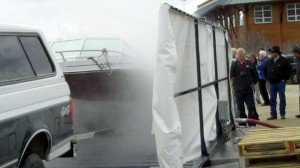 "We would like to thank the cooperative partners that joined this effort and helped with funding, especially the Bureau of Reclamation, U.S. Fish and Wildlife Service, Idaho Power Company, Nevada Department of Wildlife, U.S. Senator Mike Crapo, and the Idaho office of the Northwest Power and Conservation Council. The Nevada Department of Parks and the Idaho Congressional offices have also provided support, especially the Idaho Department of Agriculture," said Robert Bear, chair of the tribal business council.

The Shoshone-Paiute Tribes are working with the Nevada Department of Parks and the Nevada Department of Wildlife to place the system at Wild Horse Reservoir State Park to inspect boats traveling north from Elko, Nevada to Wildhorse Reservoir. For boats where mussels are found, decontamination will only be a 5 to 10 minute boat wash instead of the customary month-long quarantine. And both the boat inspection and boat wash are free.

Establishing the decontamination system illustrates the importance of collaboration. The project wouldn't have been possible without the support of many different partners with varying responsibilities and mandates.

"The effort was a work in progress for over a year and required coordination among a lot of people and groups," said Idaho Council member Jim Yost. "But when we hit an obstacle, we figured a way around it, and this summer we expect to have the system up and running."