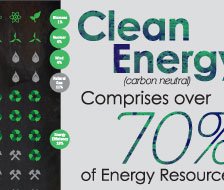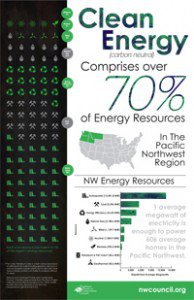 As little as thirty years ago, the only resources energy planners considered to meet future demand were coal and nuclear. People couldn't imagine any other options.

Today, the Pacific Northwest uses other kinds of generation. The system is still hydro-based, with the Bonneville Power Administration playing a dominant role marketing the power from the federal hydrosystem, but natural gas and wind are now growing resources.

<< See this infographic as PDF

Perhaps most remarkable has been the impact of energy efficiency. It's now our third largest resource, contributing 16 percent of the region's energy. Combined with what the federal hydrosystem generates, 70 percent of the region's electricity demand is met with clean energy.