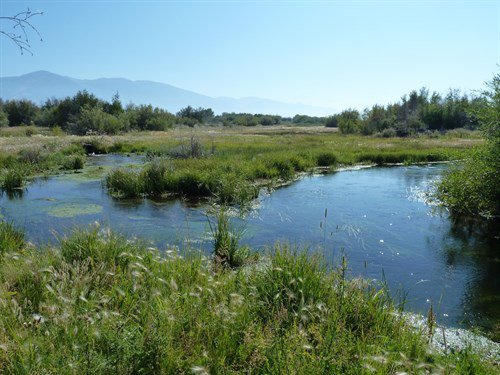 The protected areas rule in the fish and wildlife program prohibits new hydropower dams in order to protect fish, wildlife and habitat.  This is a salmon-bearing tributary of the Lemhi River in central Idaho.
            Among the many contentious issues the Council will tackle in reviewing and amending the Columbia River Basin Fish and Wildlife Program, a process currently under way, is whether to grant exemptions for new hydropower dams in areas protected by the program from hydropower development because of the potential impacts on fish and wildlife.
            The protected-areas designation covers some 44,000 miles of river and stream habitat inside and outside the Columbia River Basin and has been a part of the program since 1988. The Federal Energy Regulatory Commission is required by law to the consider protected-areas designation in deciding whether to grant a license to a new hydropower facility.
            Until the 2000 revision, the program included a process through which the Council could grant exemptions to hydropower proposals if their proponents could prove the projects would have "exceptional benefits" to fish and wildlife – actually help, rather than hurt, fish and wildlife. But because of an oversight the exemption process was left out of the 2000 Program and subsequent program revisions.
            We didn't notice, but others did. And now a debate is playing out in the current program-amendment process over whether an exemption process should be reinstated – and whether it should be different than the old process.
            Bookend recommendations for and against exemptions came from Black Canyon Hydro LLC, which has proposed a run-of-river hydroelectric facility on the North Fork Snoqualmie River in western Washington, the Snohomish County Public Utility District, which has proposed a new hydropower facility on the South Fork Skykomish River north and east of Everett, and others. Opposition to exemptions came from American Rivers, several hundred individual commenters who support the environmental group's position, The Lands Council, a Spokane-based environmental group, Trout Unlimited, and the Snoqualmie Tribe.
            Snohomish PUD wrote: "The District recommends that the Council re-insert the important language added by the 1988 amendments into the 2013-2014 Program to allow new hydropower in a protected area when beneficial and appropriate." Black Canyon made five specific proposals, including a revision process for protected-area designations, an exemption for small, low-impact projects, a consistency determination for suitable projects that may enhance resources, a variance for projects where there is no practical alternative, and recognition and acceptance that some older projects would benefit from a new license or license renewal.
            Opposing exemptions, Trout Unlimited wrote: "Allowing exceptions or exemptions for project development in protected areas will create the very ongoing, site-specific battles that the Protected Areas program was designed to avoid." However, the letter added that "to the extent the Council determines there is a need for exemptions or exceptions ... we urge the Council to develop strict criteria to discourage abuse of any exemption process…"