Designing for Efficiency
Idaho's Integrated Design Lab is building the future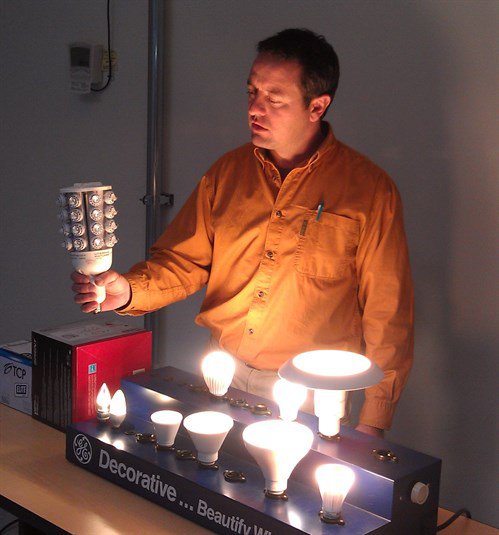 Brad Acker, a research scientist at the lighting lab, discusses new lighting technology
A Boise energy design lab is setting up art and architecture students for careers in energy efficiency while also working with building owners, designers, and the local electric utility, Idaho Power Company, to improve the energy efficiency of existing buildings and those under design.
"My role is to push the edge of energy efficiency, trying to convince folks that these things will work." Kevin Van Den Wymelenberg, associate professor and director of the University of Idaho Integrated Design Lab, told the Council at a meeting in Boise in November. He drew a parallel to the work of the Council in promoting energy efficiency as the priority resource to meet future demand for electricity in the Northwest. "What we do is support the vision that you have in your power plan," Van Den Wymelenberg said.
The lab is dedicated to developing high-performance, energy-efficient buildings in the Intermountain West using research, education, and outreach efforts with students, and building owners and designers. "Our expectation is to be a premier energy efficiency research and design facility, unique in the nation in our ability to connect research with practice and teaching," he said.
Idaho Power Company has been working with the lab since 2004. Current projects include:
Rebates to large commercial and industrial customers who invest in energy efficiency
Incentives up to $100,000 for retrofitting that improves energy efficiency
Recurring payments to commercial and industrial customers to reduce power consumption when Idaho Power experiences peak demand for electricity
Public lectures by experts from around the country on current topics in energy efficiency
Demonstrating new or evolving technologies, such as a new generation of evaporative coolers; a test unit installed in Boise achieved a 56-percent reduction in energy use compared to other types of cooling technologies.