Council will ask panel of independent scientists to review spill experiment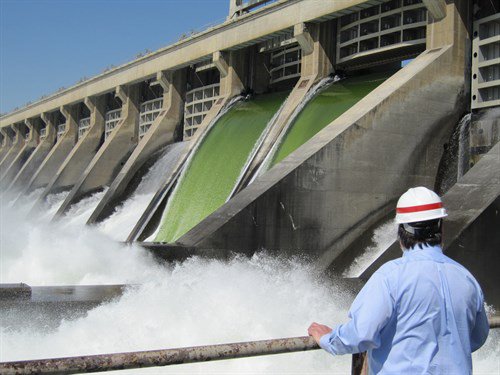 Water at McNary Dam spills through spillgates and also over a removable spillway weir (green water), which reduces dissolved gas in the tailrace below the dam.
Stressing that it was not making a decision but seeking more information to inform a decision next year, the Northwest Power and Conservation Council asked the Independent Scientific Advisory Board this month to review a proposal to increase spill over Snake and Columbia river dams in the spring for 10 years. The 11 scientists on the panel are appointed jointly by the Council, NOAA Fisheries and the Columbia River Intertribal Fish Commission.
The increased spill would be conducted as an experiment to determine whether it affects survival of juvenile salmon and steelhead migrating to the ocean. The Council received the spill-experiment proposal from fish and wildlife agencies, Indian tribes (see, for example, the Nez Perce Tribe's recommendation), and the state of Oregon as a proposed amendment to the Council's Columbia River Basin Fish and Wildlife Program.
Earlier this year, the Council invited recommendations to amend the program, then made the recommendations available for public comment. Now the Council is beginning to write the next version of the program, which it does every five years.
Recognizing there is controversy about whether increased spill improves fish survival, Washington Council member Phil Rockefeller, chair of the Council's Fish and Wildlife Committee, said the intent of asking the science panel to review the proposed spill experiment "is to better inform the Council, not to make a decision on the merits of the proposal."
In referring the proposal to the science panel, the Council is including a number of questions about the effects of spill, good and bad, on salmon, steelhead, other fish and wildlife in the river, and the river ecosystem. The amendment proposal recommends increasing spill to 125 percent of the total dissolved gas level in the river below dam spillways during the spring for 10 years at dams on the lower Snake and Columbia rivers, with a comprehensive assessment of smolt-to-adult survival after five years.