Cold Water Refuge
Scientists find salmon and steelhead seek refuge when the Columbia and Snake rivers get too warm in summer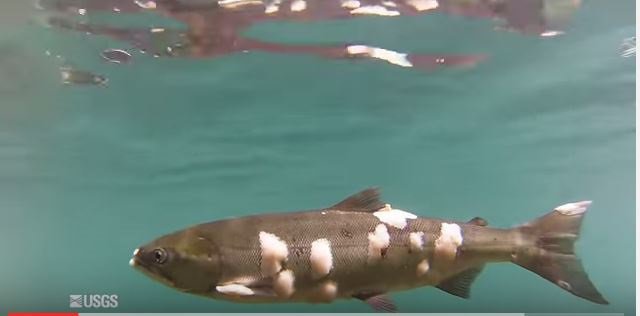 Outside on a really hot day, don't you instinctively search for a cool place? So do salmon and steelhead when river temperatures get uncomfortably, even lethally, warm.
Ongoing research in the Columbia and Snake rivers is showing how fish find and use what are called "cold water refuges" as they migrate home from the Pacific Ocean in the summer, when water temperatures can – and have in recent years – reached lethal levels. It's a weather trend scientists expect to continue, and so it's critical to the future health of cold-water species like salmon and steelhead.
Recently, Matt Keefer, a research scientist at the Department of Fish and Wildlife Sciences at the University of Idaho, spoke to the Council about the work he and colleagues including NOAA Fisheries scientists have been conducting since 1996 to better understand where cold water refuges are and how steelhead, Chinook and sockeye use them. Keefer said the research shows that these species find cold water refuges along the migration journey, and sometimes hundreds or thousands of fish crowd into a single block of cool water. Steelhead will stay for days to weeks, but Chinook and sockeye tend to stay only hours, as they typically move quickly from the ocean to their natal streams or hatcheries. Even a brief say of 12 hours or so can be critical.
These sites tend to be at the mouths of Columbia and Snake river tributaries. Keefer's research has identified 191 cold-water refuges in the lower and middle Columbia; the refuges become fewer and farther between upstream of John Day Dam and in the lower Snake River up to the confluence with the Clearwater River.
Salmon are adaptable to changes in water temperature, and summer-migrating fish routinely encounter temperatures that are warmer than the ideal 57-62 degrees Fahrenheit. However, as happened in the summer of 2015, sometimes extremely hot weather, warm water -- much earlier in the year than expected -- and the salmon migration coincide, and that is a very dangerous set of conditions for fish. In 2015, just such a set of conditions is believed to have contributed to the deaths of more than a quarter million sockeye salmon in the mainstem Columbia in June and July. Scientists expect that these extreme conditions – warmer earlier in the migration season and lasting longer than in the past – will become more frequent in the future.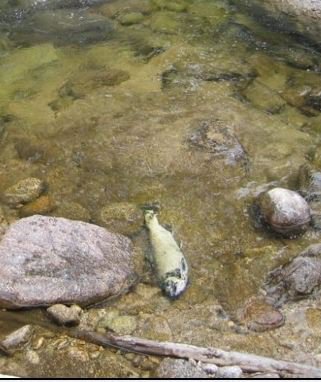 This Chinook, exposed to warm water during its homeward migration, died in the South Fork Salmon River in Idaho before it could spawn.
The research is addressing a number of questions, such as whether refuge use can reduce mortalities during migration. The answer is probably yes, particularly with Chinook salmon, Keefer said. An emerging concern with Chinook, though, is that exposure to warm water appears to cause the fish to die before they can spawn. Ultimately, the question for salmon and steelhead is whether they can keep pace with environmental change. Different species probably are more adaptable to warmer water than others –summer and fall Chinook may be more adaptable than spring Chinook, for example. Migration timing already is shifting toward earlier in the year when water generally is cooler, but the opportunity for such shifting differs for each species, he said.
"If we know where refuges are and how they are used, we can learn how to protect them," Keefer said. That could involve, for example, breaching dikes so that cold water reaches the mainstem river. Tributary habitat can be shaded by planting trees, bushes, and grasses along the banks, and this may help cool the water. Cold water releases from storage reservoirs can provide a limited benefit, but it dissipates as the water moves downstream.