Cold-water Species In A Warming Climate
Bull trout, a threatened species, need clear, cold water and spawning habitat that is as free of sediment as possible. A joint project of Montana and the Confederated Salish and Kootenai Tribes aims to provide those conditions while also reducing predati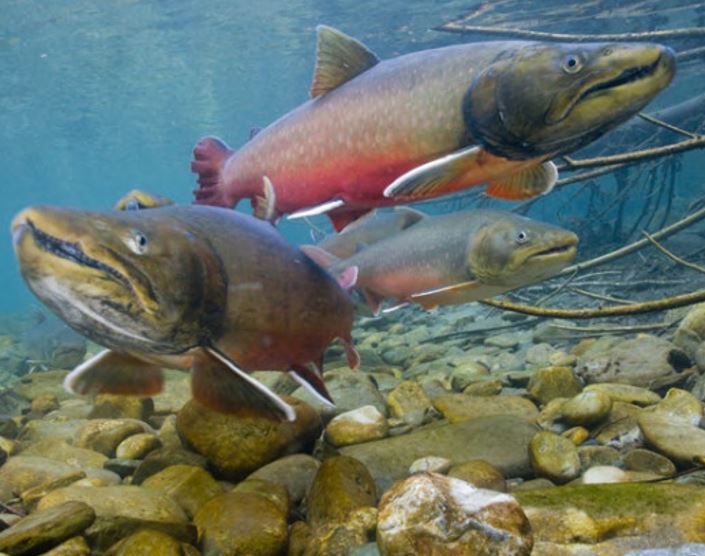 Bull trout are the salmon of Montana, a cold-water species whose long-term sustainability is threatened by a warming climate, degraded habitat, and an abundance of predators. Like salmon, bull trout are protected under the Endangered Species Act, but unlike salmon their range extends across the Columbia River Basin.
In Montana, the Confederated Salish and Kootenai Tribes and the Montana Department of Fish, Wildlife and Parks are working to improve bull trout habitat and reduce predation by lake trout, an introduced species, in Flathead Lake. It's a long-term effort, and while the number of lake trout has declined, there has not been a corresponding uptick in bull trout numbers.
Yet.
"We expected a delay in the response," Les Evarts, fisheries program manager for the tribes, told the Council at a recent meeting in Montana. Rebuilding will happen, but slowly. "All the indicators are that it will happen. But I don't think it's going to be in the very near future, and we have to be patient."
The state and tribes have been working on bull trout restoration since 1991 through a project in the Council's Columbia River Basin Fish and Wildlife Program that focuses on mitigating the impacts of Hungry Horse Dam on the South Fork Flathead River. The South Fork was a major bull trout river before the dam was completed in 1953. Since then, bull trout have declined due to a combination of degraded habitat, overharvest, and importantly, predation by lake trout, a species introduced into Flathead Lake more than 100 years ago.
For decades extremely cold water was released from the dam into the South Fork – water that attracted lake trout from Flathead Lake in the summers and led to predation on juvenile bull trout. By installing a selective withdrawal system, water can be mixed from various depths to warm the release temperature, discouraging lake trout and providing the best water temperature for bull trout to grow. As the fish grow they are better able to avoid predators.
Until the lake trout population is reduced substantially, bull trout restoration will be difficult. To that end, the state and tribes have been taking steps including increasing the fishing limit to 100 per day, sponsoring a lake trout fishing derby, and starting a tribal business selling lake trout filets. The tribes also use gill nets to fish large numbers of lake trout from the lake. The goal is to remove about 143,000 fish from the lake annually. Angling contributes about 50,000 fish per year, and the other efforts will add more fish and, if successful, reach the goal sometime in the future.
"So far we are far short of our target, but we are seeing signs of success," Evarts said. "The lake trout population is decreasing."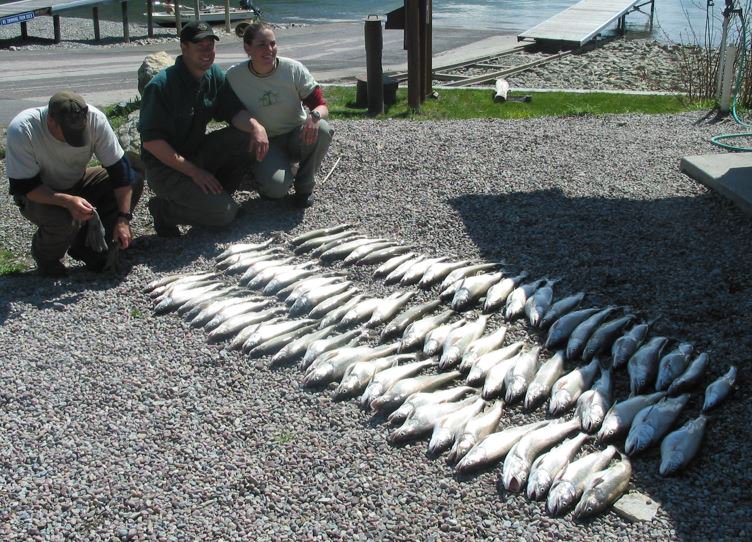 Lake Trout derby, Flathead Lake. Photo: Cindy Benson.
Meanwhile, the state and tribes are working to restore habitat in the Jocko and Swan rivers, which are Flathead tributaries. In British Columbia, where the North Fork Flathead begins and where some of the best bull trout habitat remains, a 2010 agreement with Montana prohibits mining of coal, gold, gas, and oil – activities that could damage habitat.
"Canada stopped this development purposefully to save the headwaters of the Flathead," said Brian Marotz, hydropower mitigation coordinator with Montana Fish, Wildlife and Parks. He said it is important to protect as much cold-water habitat as possible for bull trout, as they can migrate up to 150 miles to reach spawning areas.