Flat Loads
Warm weather and energy efficiency combined to hold Northwest electricity sales essentially flat in 2015, while population, income, and economic output continued to grow.

In 2015, while the Northwest population, employment, personal income and economic output continued to grow, electric utility loads continued to be flat, largely because above-normal temperatures moderated demand for power and energy efficiency programs did what they are intended to do – help the region do more with less power.
Regional electricity sales declined from 2014 to 2015 by 287 average megawatts, an amount of power roughly equal to the annual usage of 206,000 Northwest homes. Data for 2016 shows a continuing decline – down 3 percent for the first nine months of the year, according to a report on the state of the region's electric utilities in 2015 by Massoud Jourabchi, manager of economic analysis in the Council's Power Planning Division.
The warmer-than-normal 2015 – last year was the warmest in the Northwest in 88 years – contributed significantly to reducing the amount of power sold. The difference between winter and summer peak loads in 2015 was the smallest of the last 20 years, probably reflecting the fact that Northwest winters are becoming warmer.
Meanwhile, income from electricity sales, along with the average rates charged for power, have increased. Since 2005, electric utility revenues have grown at about 3.6 percent per year, largely as the result of inflation. Meanwhile, average rates for electricity grew about 3 percent annually, while the average residential bill grew just 1 percent per year.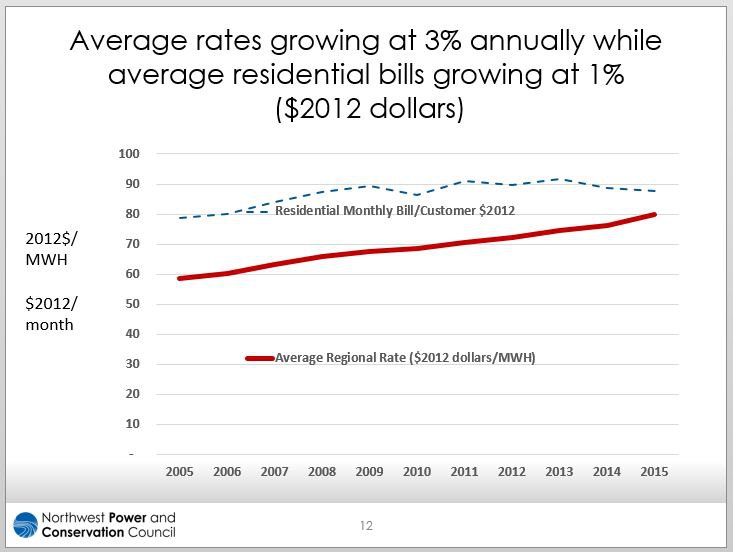 The reason for higher rates but lower bills has to do with two key factors. First, improving energy efficiency means that while consumers are paying a little more per kilowatt-hour for electricity (the higher rate), they are using less (lower bills) thanks to energy efficiency improvements. Second, warmer weather drives down total electricity usage in homes that use electricity to heat and cool air and heat water, as do most homes in the Northwest. Warm weather conditions are believed to have reduced Northwest electricity loads by 3 percent in 2015.
Jourabchi said the regional economy continues to do more with less electricity as energy efficiency continues to improve. In 2005, the Northwest produced about $3,000 of output per megawatt-hour of electricity consumed; by 2014 it was about $4,000. The region also is growing – from 12.3 million in 2005 to 13.9 million in 2015, and the number of electricity consumers is growing, too – about 1 percent per year over that time. Meanwhile, the Northwest economy is improving faster than in other areas of the country. Since 2010 regional employment has increased by more than 560,000 jobs and unemployment rates are low. Per-capita annual income is improving, too, now about $50,000 per year on average across the region.
The report also identified two areas of growing interest for electric utilities: 1) advanced metering infrastructure, which is a means of providing information on an hourly basis to consumers about their power use so they can make usage decisions; and 2) demand response, which is the voluntary reduction in customer electricity use in exchange for compensation during periods of high demand and limited power availability. Jourabchi said there now about 555 megawatts of potential peak-load savings under contract in the Northwest, most of it in the industrial and agricultural economic sectors. Most of the agricultural demand response contracts are in Idaho.
Here is a quick look at the key points of the Council's staff report: