Recovering Chum Salmon
Over time, lost habitat and poor ocean survival devastated Columbia River Chum salmon, but improved habitat and hatchery outplantings are bringing them back.

Over time, the Columbia River Chum salmon run has declined by as much as 99 percent, from historic annual run sizes estimated at 500,000 to 1 million fish to modern-day runs ranging from about 1,000 to 10,000 fish. At one time, there were 17 distinct Chum salmon populations in the Columbia, which spawned from the Grays River near the coast as far upriver as Celilo Falls just east of The Dalles, Oregon.
Today, 90 percent of those populations are extinct and the remaining populations, aggregated into a single unit with three components (coast, Cascade, and Columbia Gorge), spawn almost entirely downstream of Bonneville Dam, 50 miles west of Celilo Falls and 146 miles from the ocean. Small numbers of chum cross Bonneville Dam each year -- generally fewer than 200 fish -- and some spawn in tributaries including Eagle Creek and the Wind River. But their production is very low, and many of the adult chum that cross the dam fall back over the dam and spawn downstream. Columbia River Chum were listed as a threatened species in 1999. Harvest is prohibited.
There are many reasons for the precipitous decline, but the loss of freshwater habitat and related ecosystem function arguably is the most important, Todd Hillson, Lower Columbia Chum salmon manager for the Washington Department of Fish and Wildlife (WDFW), told the Council at its July meeting in Vancouver, Washington.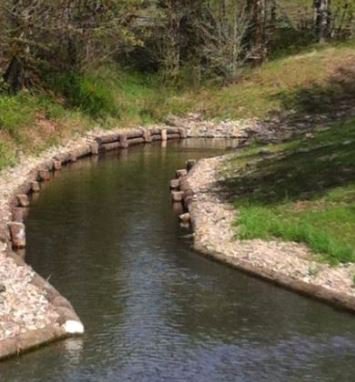 Artificial spawning channel in Hamilton Creek.
Chum spend very little time in freshwater, compared to other salmon species. They have a unique life history, inhabiting shoreline areas where they spawn and rear before going to the ocean. The best habitat for chum was in the lowest reaches of tributaries or in braided channels in the mainstem river, and some of these areas were cut off by dikes and levees or mined for gravel.
Chum faced a litany of other threats to their survival over the years. Bonneville Dam flooded historic spawning areas upstream to Celilo Falls, and the varying flows out of the dam impacted spawning areas downriver, sometimes dewatering egg nests laid near the shoreline in higher water. Hydropower dams on the Cowlitz and Lewis rivers limited how far upstream the fish could swim and spawn.
While Chum typically produce huge numbers of juvenile fish, less than one half of one percent survive the migration to the ocean, and as a result the number of adult fish that survive in the ocean and return to spawn is low. Chum juveniles begin migrating to the ocean not long after they hatch, when they are just a couple of inches in size, making them "food for everything," Hillson said.
Because ocean survival is low, freshwater survival has to be high in order to recover the species, he said. Recovery work is focusing on improving spawning habitat and ecosystem function by, for example, constructing spawning channels to serve as interim incubation areas while natural restoration activities take hold and produce improved spawning areas. Spawning channels were built in Duncan Creek near Bonneville Dam in 2001 and in nearby Hamilton Creek in the 1980s; both have been upgraded since. Hatcheries also are being used to raise chum for planting in streams to jump-start rebuilding individual populations.
Monitoring by WDFW shows that juvenile Chum survival has improved over time. While it's not possible to say with certainty that the habitat improvements and hatchery releases are responsible, it is clear that environmental conditions have improved and that the biological and ecological response has been positive – for chum and for other species that use those areas. And that's the root purpose of actions like these in areas where fish and wildlife have been affected by habitat alterations and hydropower operations -- encouraging watershed-scale processes to take effect and, over time, making it possible for species to rebuild.