Water Storage, Water Power
Washington's Department of Ecology and oil giant Shell are exploring an unusual partnership in a project to generate hydropower and also store water.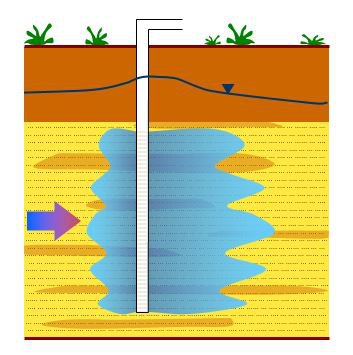 Here's an idea that might seem, at first, impossible: Build a big battery that could help balance the variable output of renewable energy like wind and solar and, at the same time, store water underground and make it available for irrigation and to improve river conditions for salmon and steelhead.
Just such a project is envisioned for a remote area in north central Washington, at the top of a bluff 1,400 feet above Rufus Woods Lake, which is the Columbia River reservoir behind Chief Joseph Dam. Even more unusual than the unique symbiosis of energy generation and aquifer storage are the two primary partners in what is called Hydro Battery Pearl Hill: the Washington Department of Ecology, which since 2006 has had a legal mandate to "aggressively pursue the development of water supplies to benefit both instream and out-of-stream uses," and mega-giant oil company Shell, whose subsidiary Shell Energy North America works to develop new energy sources including biofuels, wind power and, in this case, pumped storage hydropower.
The project would be located about six miles east of Bridgeport, Washington on state Department of Natural Resources land. An above-ground reservoir would be built on top of the bluff, and a framed, floating membrane would be constructed in the lake to hold water that would be pumped up to the reservoir when power costs and demand are low, such as in the middle of the night, and then released when needed to generate electricity at a powerhouse that would be built on a dock on the lake. A transmission line would connect the powerhouse to nearby Grant County Public Utility District transmission lines. The plant would be small by utility standards – 5 megawatts of generating capacity.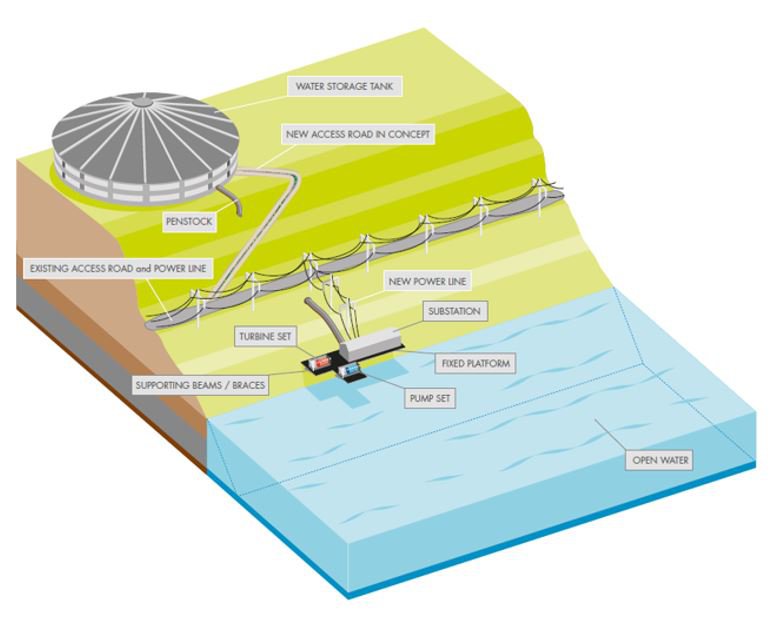 Illustrations: Shell Energy North America
Guy Gregory, technical unit supervisor in Ecology's Water Resources Program, said the hydro battery could be part of the answer to the department's search for new sources of water storage for multiple purposes.
"Winter is when water is in the river, but summer is when we need it and the fish need it, and it's not there to augment flows for people, farms, and fish," Gregory said. "We looked at building dams, but they are expensive so we looked at aquifer storage and recovery by injecting water into basalt formations. The basalt in that area has the ability to store a lot water, and the cost is a lot lower than building storage dams."
Ecology identified four sites where water could be injected into basalt amounting to about 50,000 acre-feet of storage in a combination of basalt injection and surface ponds – about half of the department's goal. The Pearl Hill project could put about 140 cubic feet per second of water back into the river for six months of the year. To make this work, though, Ecology needs a storage reservoir.
Enter Shell, with a focus on what Pearl Hill project manager J.T. Steenkamp of Calgary, Alberta, called "rethinking machines."
There are many possible uses for moving water to and from the top of the hill in addition to hydropower and aquifer storage, Steenkamp said, adding that the small size of the project is not a detriment. In fact, Shell sees it as a model for future small-scale energy projects.
"Don't conceive of the biggest nature-conquering project you can think of, but think about what ecologists and engineers need. When you do that, the solution looks like a small device like Pearl Hill," he said.
Shell Energy has received a preliminary permit from the Federal Energy Regulatory Commission and plans to submit a formal application this year. Ecology is still studying the feasibility of aquifer storage at the Pearl Hill site, but recognizes the project could benefit both Shell and Ecology. Steenkamp said if there are no delays, the project could begin generating power by the end of 2018.
View:
Shell Energy's 3-D flyover simulation of the project here.
J.T. Steenkamp presentation here.
Guy Gregory presentation here.