Vanished Salmon
Juvenile salmon abundance was about normal in the Columbia River estuary this summer, but a survey in the near-shore ocean found almost none. Why?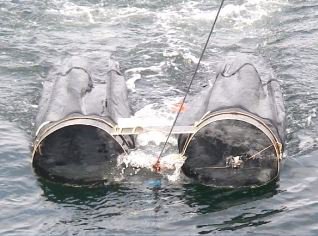 The Blob, the warm-water anomaly that spread across the North Pacific Ocean for the better part of the last four years, disrupting the ocean food supply for juvenile salmon and steelhead and bringing warm-water predator fish farther north than normal, appears to have dissipated, but this year a new and possibly related problem developed that shocked scientists.
Juvenile salmon, observed in near-normal numbers in the Columbia River estuary, seemed to disappear in the ocean, NOAA Fisheries scientist Brian Burke reported at a meeting of ocean researchers this month.
The Blob, named for its appearance on maps of sea surface temperatures – an angry-looking red mass spreading across the otherwise blue Pacific like a menacing slime – upset the normal marine ecosystem and led to some unusual, even lethal consequences. Fish including predators normally found in warmer waters to the south were caught off Alaska, and there was a shift in the food supply that resulted in less available nutrition and greater competition among species.
While the Blob has dissipated and sea surface temperatures are returning to normal, satellite imagery can't show what's going on under the surface, and that's where the problems appear to continue. This year the abundance of juvenile salmon in the lower Columbia River and estuary was about average but, mysteriously, NOAA researchers found almost no juvenile salmon in their June survey of the near-shore ocean. In 2008, the June survey brought in 422 juvenile salmon, the most in recent years; this year the number was only 16. Catches of smelt, herring, and anchovy, forage fish for birds and other species, also were also low.
"Chinook and coho just weren't there," Burke said. "Our best guess is that sometime between the estuary and the near-shore there was a really big predation event. This shocked us." In seeming confirmation, a researcher in Alaska who normally catches juvenile Columbia River spring Chinook and coho smolts in the summer caught none this year, NOAA salmon researcher Lauri Weitcamp said.
Following the surveys, NOAA issued a memo in September suggesting the low numbers may have resulted from an increase in salmon predation by birds in response to the low abundance of forage fish, or from poor ocean conditions or both. "We did catch a lot of predator fish, "Burke said. "It could be that there are more around this year than normal."
As scientists learn more about how fish behave in the ocean in response to constantly varying conditions – where they start their migration, where they go, what they eat – the results will help inform management decisions from forecasting run sizes and setting harvest seasons in the ocean and in freshwater, to hatchery operations, and decisions about where to focus money to improve freshwater spawning habitat for wild fish.
"There is a lot of data to assimilate, but 2015, 16, and 17 were not good for salmon, due to the presence of the Blob," Burke said, adding "there is a lot of information we don't have, but need." This includes information about predators on juvenile and adult salmon, from hake to birds to sea lions, and also about the abundance of salmon prey including forage fish like anchovies, herring, and crabs.