Pike Threat
Northern Pike are taking hold in Lake Roosevelt, and those working to suppress them hope it's not too late to save other species from the aggressive predator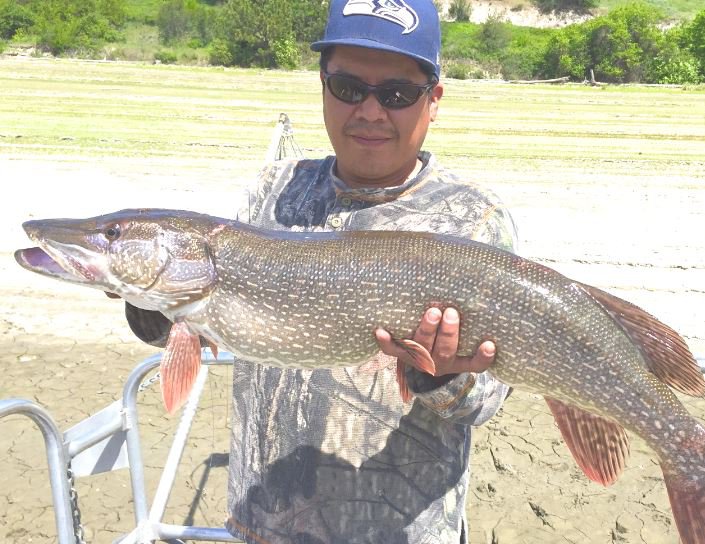 Northern pike, an aggressive predator on other fish and a prohibited species in Washington, have taken hold in Lake Roosevelt, the Columbia River behind Grand Coulee Dam, where they may have been introduced illegally or drifted downriver from infested areas upstream. A collaborative effort to eliminate them using gillnets and a reward fishery is having some success, but all involved hope it's not too little too late.
The evidence is not hopeful.
"We're seeing 15 and 16-pound fish with some regularity," Elliott Kittle, a fisheries biologist with the Spokane Tribe of Indians, said at the December meeting of the Power Council's Fish and Wildlife Committee. "I have no doubt abundance is increasing. There are pike in places we've never seen pike, and there are pike bigger than we've ever seen."
The Spokane Tribe, Colville Confederated Tribes, and the Washington Department of Fish and Wildlife have been working since 2015 to suppress the explosive growth of the pike population. Other collaborators include Chelan and Grant county public utility districts, which own and operate dams on the Columbia downstream of Chief Joseph Dam. Salmon recovery efforts downstream, including those funded by the PUDs as conditions of their federal hydropower licenses, would be jeopardized if the predator pike migrated downstream into waters where ocean-going species, including threatened and endangered salmon and steelhead, are present.
Given the speed with which pike reproduce and spread, quick action is imperative.
"Once you've put your foot on the gas you can't take it off," said Washington Council member Guy Norman. "I think we all understand the risk, not only to Lake Roosevelt but to recovery efforts downstream. The possibility of movement downstream to anadromous waters is frightening."
The co-managers lack a consistent and adequate source of funding to suppress Northern Pike in Lake Roosevelt, Holly McLellan of the Colville Tribes said. At the Council's request, the co-managers proposed a multi-year suppression project. The $4.5 million, five-year project – 2018 funding would be $840,144 -- would be funded largely by the Bonneville Power Administration, with an additional $100,000 to come from the other collaborators, including the public utility districts and the Tribes. Utility funding paid for a successful $10,000 reward fishery in 2017 that resulted in the removal of 1,095 pike. Anglers received $10 per fish, no minimum size. Those fish were among 4,927 that were removed this year.
The Council has a web-based tool here that provides current Northern Pike suppression data, information on the treats the predator poses, and information about how the public can help keep pike from reaching anadromous waters below Chief Joseph Dam.
Meanwhile, the growing pike problem has caught the attention of others who are concerned about potential impacts.
"This is a level of threat that is very, very concerning to me," said Steve Martin, director of the Governor's Salmon Recovery Office in Washington. "I really appreciate what's being done by the co-managers in Lake Roosevelt; this is a wake-up call."
Joe Maroney of the Kalispel Tribe of Indians said he sees the evident growth of the pike population in Lake Roosevelt as a warning. The Tribe has been working on reducing the pike population in the Box Canyon Dam reservoir on the Pend Oreille River in northeast Washington since 2008 and just recently noted success. Nine years ago, the Box Canyon population was well-established – moreso than the current population in Lake Roosevelt -- and today, while not eliminated, the population has declined dramatically.
"Rapid response is the key," Maroney said. "You need to get on top of it quickly; you don't need to study it to death. You need to kill these things."
He said the tribe removed thousands of pike annually for the first several years, and then saw the numbers drop rapidly in later years as the removals had an obvious effect on reproduction. In 2016 the Tribe removed 750 fish; this year, just 34.
"You have to hit it with a big hammer," he said, recalling the Tribe's successful fishing derbies. "We called it Pike-Palooza."