Wildlife Help
Idaho and the Bonneville Power Administration sign an agreement for mitigation of the wildlife impacts of Albeni Falls Dam at the outlet of Lake Pend Oreille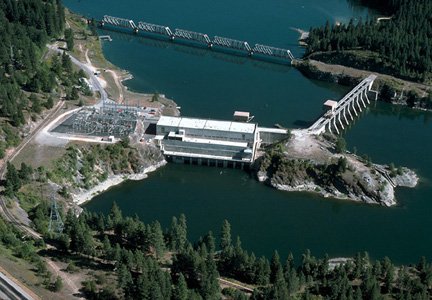 The state of Idaho and the Bonneville Power Administration have agreed on a $23.89 million settlement for the impacts of Albeni Falls Dam on wildlife around Lake Pend Oreille.
The settlement agreement is available for public comment here. The comment period ends February 23.
"This settlement is good for Idaho and good for Bonneville Power Administration ratepayers. It provides funds to finish up needed shoreline  protection projects, and it establishes an annuity account intended to fund the future care and maintenance of Idaho's mitigated lands," said Idaho Council Member Bill Booth. "The agreement puts to bed Bonneville's obligation to Idaho for construction and inundation impacts of Albeni Falls Dam, while providing certainty and avoiding protracted legal wrangling."
Albeni Falls Dam, on the Pend Oreille River at the outlet of the lake, was built by the U.S. Army Corps of Engineers between 1951 and 1955. The dam regulates the levels of Lake Pend Oreille and also river flows downstream. Bonneville has an obligation in federal law to mitigate the fish and wildlife impacts of dams in the Columbia River Basin.
The agreement provides funding to complete needed shoreline erosion control and wildlife habitat restoration projects, addressing losses due to the fluctuations of the water level as the result of the dam's operations.  The Albeni Falls agreement complements previous actions to improve conditions for fish and wildlife around the lake and, in particular, recent protection and restoration of the Clark Fork River delta on the northeastern shore. Additionally, Bonneville would provide an initial lump sum payment establishing an interest-bearing stewardship fund. The State of Idaho would then take over future care and maintenance liability for 6,227 acres of previously acquired mitigation lands, using the interest generated by the fund.
Those acquisitions addressed habitat losses caused by construction of the dam. Council Member Booth said "The creation of this stewardship fund will save ratepayers money in the long run."  Without this agreement, Bonneville would be obligated to continue making annual mitigation payments to Idaho.
The new agreement follows on one signed by Idaho and Bonneville in 1997, through which the Idaho Department of Fish and Game has been implementing a wildlife mitigation program for the construction of the dam and inundation around the lake, along with partners including the Kalispell, Kootenai, and Coeur d'Alene Tribes. Bonneville plans to negotiate separate mitigation agreements with those  entities.