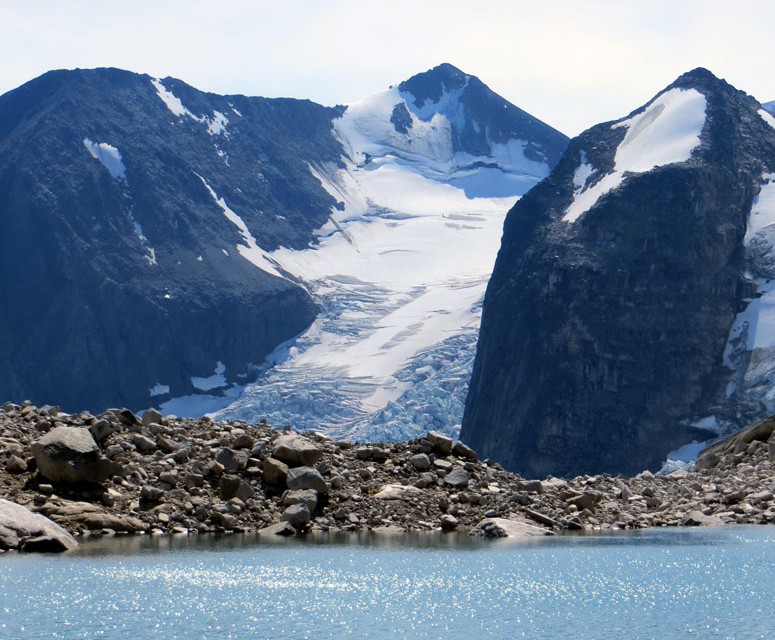 Glaciers in the Canadian Columbia River Basin lost 15 percent of their area from 1985 to 2005 and are projected to mostly disappear by 2100, according to research completed in 2019 and reported this year.
After a five-year study, 2014-19, the Canadian Columbia Basin Glacier and Snow Research Network released its report, Glaciers in the Canadian Columbia Basin Technical Report, in June 2020. According to a news release by the Columbia Basin Trust, which helped fund the research, the Network, a partnership of universities, industry, and government, monitored six glaciers through field study, automated monitoring stations, and ground-penetrating radar. The purpose was to advance understanding of the Canadian Columbia Basin's snow and glaciers (also known as the cryosphere), as well as their downstream contributions to water resources and ecosystems. The lead authors were Brian Menounos of the University of Victoria and Ben Pelto of the University of Northern British Columbia.
"The research and resulting technical report will help people, communities, industry, government agencies and others in the Basin prepare for future changes associated with a warming climate," the Trust reported.
Before the study, little was known about the glaciers that feed water into the Canadian Columbia Basin, despite their importance to the volume of water in the river and the many uses of the water downstream, from hydropower to irrigation to community water supplies. Detailed data is needed to better understand the future of the Columbia River water supply as the climate warms.
The researchers focused their investigations on six glaciers in the basin, noting their snow cover and downstream hydrology over the five-year study period. Among their key findings:
Summer conditions play the biggest role in determining glacier mass balance, the net balance of snow gain during winter and snow loss during summer. Because of the summer melting, an above-average winter snowpack does not mean a net balance over the year or an increase in glacier size. With warmer and drier summers, glaciers are shrinking.
In Columbia River tributary streams where more than 2 percent of the watershed is covered by glaciers, glacier shrinkage over the last 40 years has reduced their ability to maintain streamflow during periods of hot, dry weather.
Glaciers in the Canadian Columbia River Basin lost an average of 80 centimeters (about 31 inches) of ice thickness from 2014-18, a rate four times greater than the loss from 2000-2009.
The studied glaciers received snow equivalent to 2 meters of water each winter from 2014-18, information that will be valuable for future Columbia River runoff modeling.
Here are links for further reading: