Council Supports Stricter Management of Birds that Prey on Juvenile Fish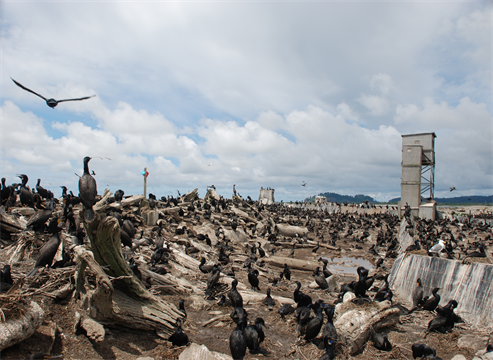 Fish-eating birds, including Caspian Terns, Double-Crested Cormorants, and several species of gulls, are killing half, or more, of the juvenile Upper Columbia steelhead, an ESA threatened species, during their annual outmigration down the Columbia River to the Pacific Ocean. Birds are also taking a toll on juvenile fish migrating down the Snake River to the Columbia, and on to the ocean. In all, these fish will pass through more than a dozen colonies of fish-eating birds before reaching the ocean.
The predation by birds is occurring over more than 500 miles of the river, from central and eastern Washington state to the ocean, affecting all species of juvenile salmon and steelhead, some more than others depending on the length and timing of their migration. This predation coincides with the birds' breeding season. Smolts being consumed by these avian predators include at least five Endangered Species Act (ESA)-listed species: Snake River sockeye, Upper Columbia Steelhead and Spring Chinook, and Snake River Steelhead and Spring/Summer Chinook.
In the letter below, the Council calls attention the problem and supports a rule change under consideration by the U.S. Fish and Wildlife Service to allow more cormorants to be lethally removed from areas where they threaten fish in hatcheries and rivers.
August 19, 2020
Ms. Aurelia Skipwith
Director, U.S. Fish and Wildlife Service
Falls Church, Virginia 22041-3803
Permit Rule for Management of Double-Crested Cormorants
Dear Director Skipwith:
We write to express our support for the U.S. Fish and Wildlife Service's (USFWS) proposed rule to authorize improved management of fish-eating birds that significantly and adversely impact Endangered Species Act (ESA)-listed salmon and steelhead in the Pacific Northwest. Every year, particularly during the spring outmigration to the ocean, Double-crested Cormorants, as well as Caspian Terns and other birds, prey on millions of juvenile salmon and steelhead smolts, including ESA-listed and non-listed species, inland along the Snake and Columbia rivers, and in the Columbia River estuary.
According to recent scientific studies that focused on one area of the Columbia Basin, more juvenile steelhead smolts are dying from bird predation – in some instances as much as 70 percent – than from all other mortality sources combined (including dams, other predators or disease). Predation by birds is now considered the dominant mortality factor limiting some ESA-listed species' survival, and a significant source of mortality of non-listed species. This hamstrings the Northwest's significant annual taxpayer and Bonneville Power Administration-ratepayer investments (nearly $1 billion annually) to protect ESA-listed salmon and steelhead while simultaneously delivering a critical source of clean, carbon-free hydropower to the Northwest.
Specifically, the USFWS's proposed rule allows permits for take of Western populations of Double-crested Cormorants where they prey on hatchery fish and ESA-listed juvenile salmon and steelhead species, and for removing nests. This policy change will significantly aid ongoing efforts by federal, state and tribal entities to control fish-eating bird populations.
We support alignment of federal agency missions and responsibilities to aid ongoing Northwest salmon and steelhead recovery, with improved interagency collaboration that includes the USFWS, the National Oceanic and Atmospheric Administration (NOAA Fisheries), the U.S. Army Corps of Engineers, the U.S. Bureau of Reclamation and the Bonneville Power Administration. This proposed rule complements a recently released draft Environmental Impact Statement on the operation of the Federal Columbia River Power System with a biological assessment that requires ESA consultation with NOAA Fisheries and USFWS this year.
Thank you for your leadership on this critical issue impacting the Pacific Northwest and the nation as whole.
Sincerely,

Richard Devlin, Chair