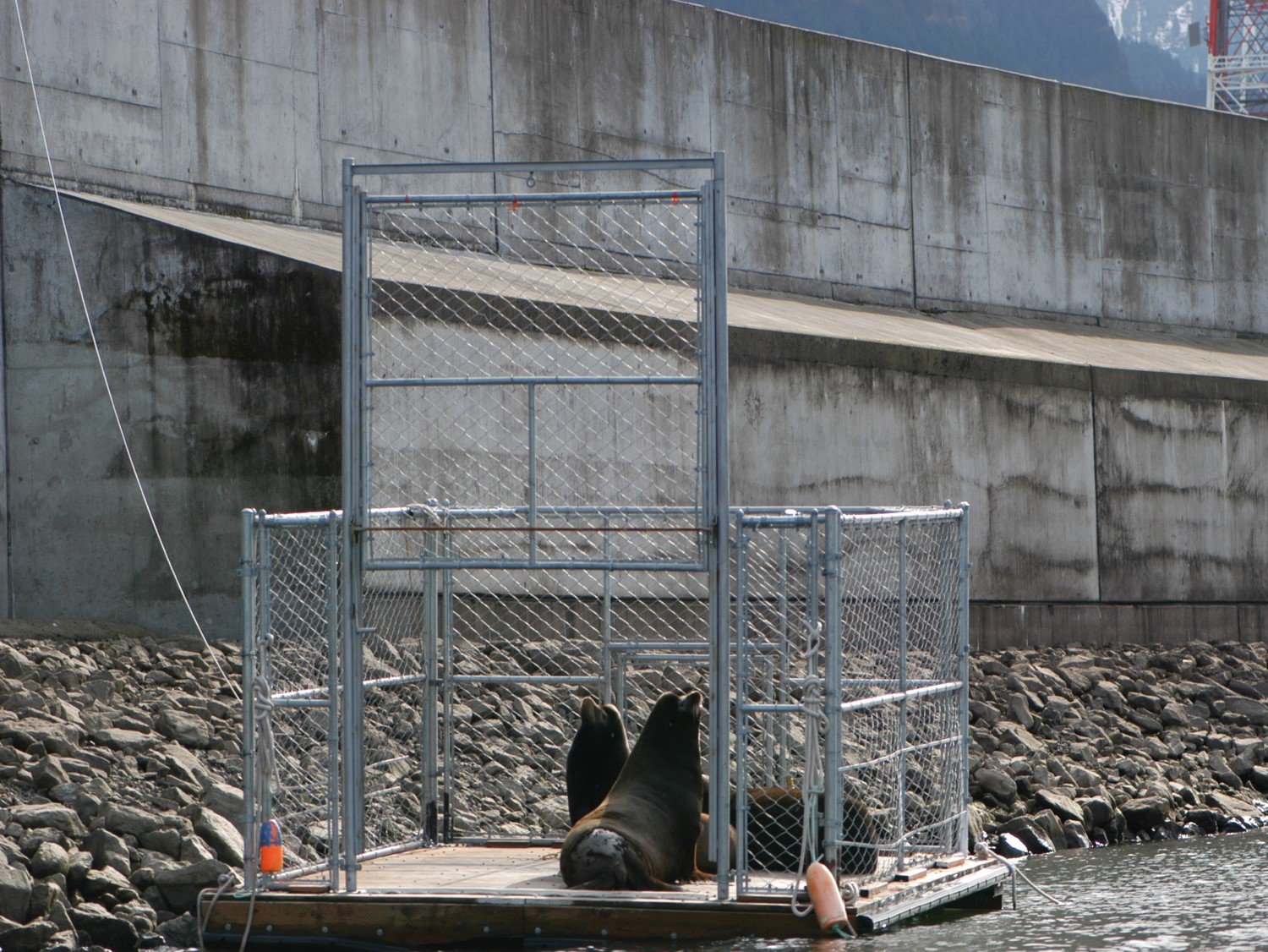 Imagine wrestling an animal the size and weight of a small car out of the Columbia River where it has been preying on salmon, steelhead, sturgeon, lamprey and smelt.
No joking, fully grown Steller sea lions are nine to 12 feet long and can weigh up to 2,500 pounds. With an attitude.
"A full grown Steller is probably twice the size of a polar bear and just as ornery," Sheanna Steingass, marine mammal program leader for the Oregon Department of Fish and Wildlife (ODFW), said at the Council's October meeting. She joined panelists from the Idaho Department of Fish and Game, Washington Department of Fish and Wildlife, and Columbia River Inter-Tribal Fish Commission in describing their expanding effort to remove aggressive sea lions from the river to protect fish.
That effort for the first time will include Stellers, thanks to a federal law change and a permit issued in August by the National Marine Fisheries Service (NMFS), a division of the National Oceanic and Atmospheric Administration (NOAA), the federal agency responsible for managing marine mammals including seals and sea lions. In June 2019, Northwest states and Columbia River tribes, through the Columbia River Inter-Tribal Fish Commission, applied to NMFS to revise a permit issued several years ago to lethally remove sea lions in more places where they prey on adult salmon and steelhead, and to include Stellers in addition to California sea lions.
The two species prey on adult salmon, steelhead, and other fish species in the Columbia and some tributaries, primarily in the spring (both species), but also in the fall (mainly Stellers in the Columbia and Californias at Willamette Falls). This predation takes a large toll on the fish, particularly the annual return of spring Chinook salmon, as they return from the ocean, research has shown. That return includes upper Columbia Spring Chinook, a federally listed endangered species. Sea lions also have had a big impact on Willamette River steelhead, driving one population, Willamette wild Winter Steelhead, to near extinction, according to ODFW. Steller sea lions have also targeted and significantly impacted white sturgeon in the Columbia and Willamette rivers.
Because sea lions are subject to the federal Marine Mammal Protection Act, they can be harassed away from their prey, but not killed without a permit from NMFS. Harassment has been ineffective, and since 2008, when NMFS first authorized the removal of a maximum number of the most aggressive California sea lions – not Stellers – a total of 238 have been removed, and 210 were euthanized. Others were sent to zoos and aquariums.
The removal process for Californias was complicated as the law required an individual animal to be identified and shown to be causing a significant impact on an endangered species. First, an animal had to be captured and branded so it could be identified. Then, it had to be released and observed again for several days preying on fish near Bonneville Dam. Only then could it be removed. Under the new law and permit, a sea lion is considered to be significantly impacting endangered salmon and steelhead if it has travelled 112 miles up the Columbia River (the Interstate 205 Bridge) or entered tributaries as far upriver as McNary Dam in which endangered species return. This change, passed by Congress and signed into law in 2018, makes the removal process more efficient and includes Steller and California sea lions that are observed in these areas as eligible for removal.
At the Council meeting, Doug Hatch of CRITFC described the "long and winding road of process" that included the federal law change, the permit application, review of the application by a 22-member task force, a report by the task force (the task force voted in favor of the permit application 20-2), and finally the issuing of the permit. Joe Dupont of the Idaho Department of Fish and Game said that while the old permit allowed for removal of as many as 92 animals, the removal process was so cumbersome that the limit never was reached.
"No longer will we have to identify, brand, and recapture animals," Dupont said. "Now if we see an animal it is assumed to be taking fish, and we can remove it."
While California sea lions tend to be present in the Columbia mostly in the spring, Stellers increasingly are spending the whole year in the river, impacting resident fish like sturgeon, summer and fall fish as well as those that return from the ocean in the spring.
Kessina Lee, Southwest Washington regional director of the Washington Department of Fish and Wildlife, said larger equipment will be needed to handle the larger and heavier Stellers. That equipment has been ordered and, meanwhile, trapping and removal will begin with Californias and smaller Stellers using traps designed for the Californias. The work will continue at Bonneville through November and then resume in 2021.
 Sea lion removals have been particularly effective at Willamette Falls, where in just one year predation on winter steelhead has dropped from an estimated 25 percent of the run to 0.4 percent, Steingass said.