Kate Fitzpatrick, executive director of the Deschutes River Conservancy briefed the Council at its October meeting on the collaborative work to restore streamflow and improve water quality in the Deschutes River Basin.
The Conservancy is a non-profit organization founded in 1996 by the Confederated Tribes of the Warm Springs, irrigators, and environmentalists and includes key public and private interests from the basin. This collaboration has enabled strong on-the-ground relationships and creative approaches to keep more water in streams for both resident and anadromous fish.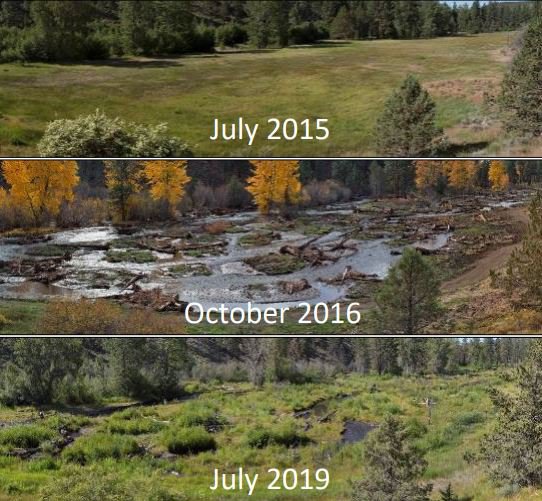 In 2002, Bonneville and the Council established the Columbia Basin Water Transactions Program to help return water to tributaries where flow is a limiting factor to healthy populations of anadromous or resident fish. The program relies on local organizations like the Deschutes River Conservancy to manage these water rights transactions.
According to the Conservancy's website, water in the Deschutes Basin has been over-allocated since the early 1900s, causing many streams to suffer from unnaturally high and low flows at different times of the year that affects water quality and degrades habitat.
Ninety-eight percent of flows in the Deschutes River have been diverted for irrigation; every 2 out of 3 years, the Whychus Creek runs dry; and diverted flows from the Crooked River leaves only a trickle of water as it passes through Smith Rock State Park.
Drought is also an issue in the basin, further exacerbating the competition for water as summers get hotter and less precipitation falls as snow in the mountains. In an effort to find solutions to the historical challenge of sharing water in the West, innovative solutions and cooperation have proven to be an effective approach.
Infrastructure tools like piping irrigation canals to prevent water loss due to seeping and policy instruments like district agreements, water rights transfers, instream water leasing, and mitigation banking, have helped return water instream:
10 stream miles and 3,100 total acres have been protected via land acquisition
6 fish passage barriers have been retrofitted or removed
6 miles of stream and 385 acres of high-quality habitat restored
Piping over 31 miles of open ditches increases stream flow by 32 cubic flow per second of water
Leasing 350-400 acres of fallow farmland annually puts about 8 cubic feet per second of water in streams for fish
Voluntary water rights transfers by landowners have permanently secured 4.5 cubic feet per second of instream water for the environment
These examples demonstrate what is possible when voluntary collaborations among landowners, irrigators, and local groups make use of market-based tools and innovative water conservation efforts. In the Deschutes Basin, the Conservancy has proven to be a leader in restoring river health while enabling farmers to continue irrigating their crops.