Going, going, almost gone
Bad year to be a fish: Sea lions took a record number at Bonneville Dam this year.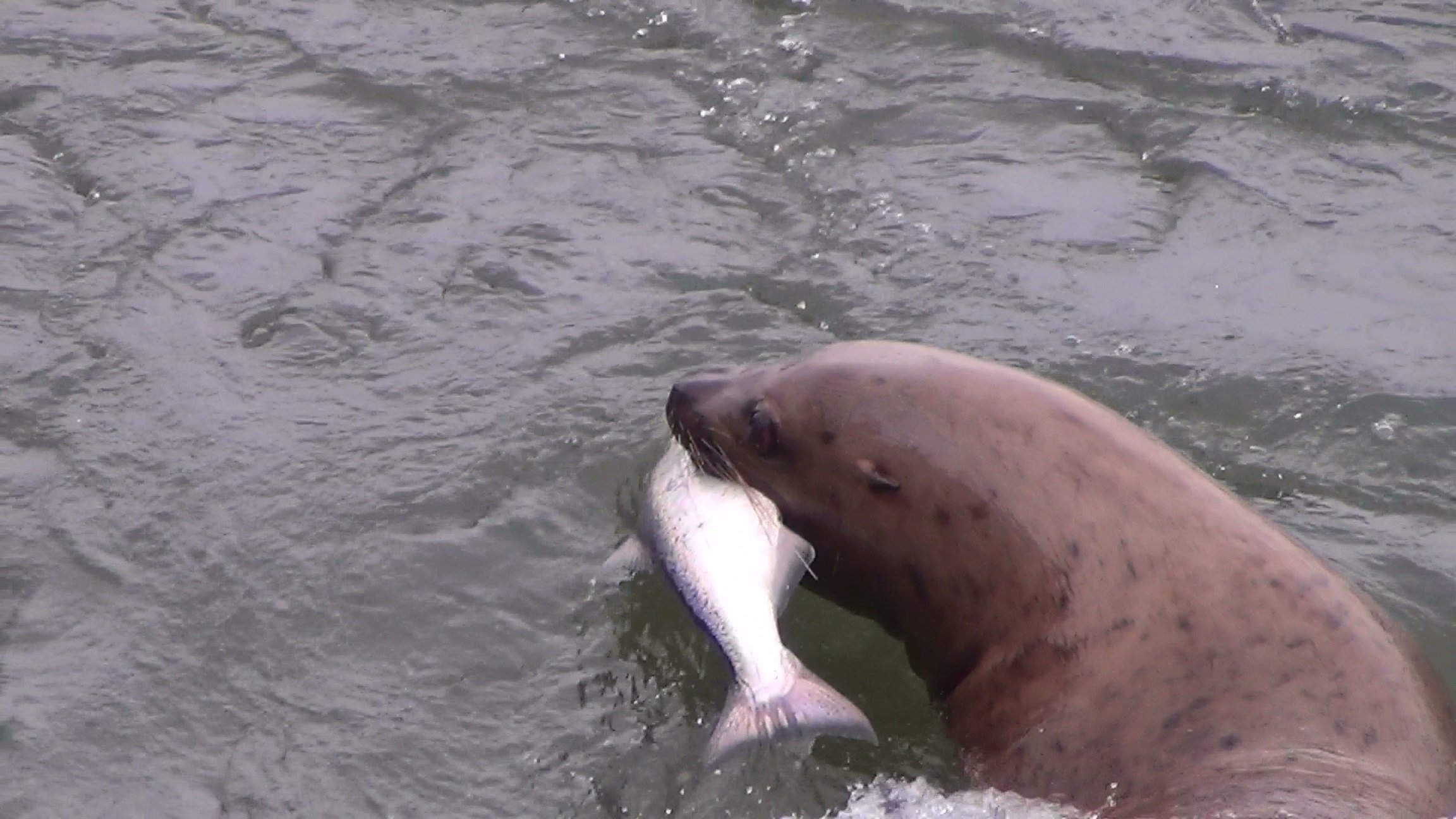 After a particularly voracious spring, most of the sea lions that catch and kill salmon and steelhead at the base of Bonneville Dam, 146 miles inland from the ocean, finally have moved on, presumably to the California coast where they breed this time of year.
In its sixth and final status report for the 2016 monitoring season, the U.S. Army Corps of Engineers reported this week on its cumulative observations at the dam from January 1 through May 31.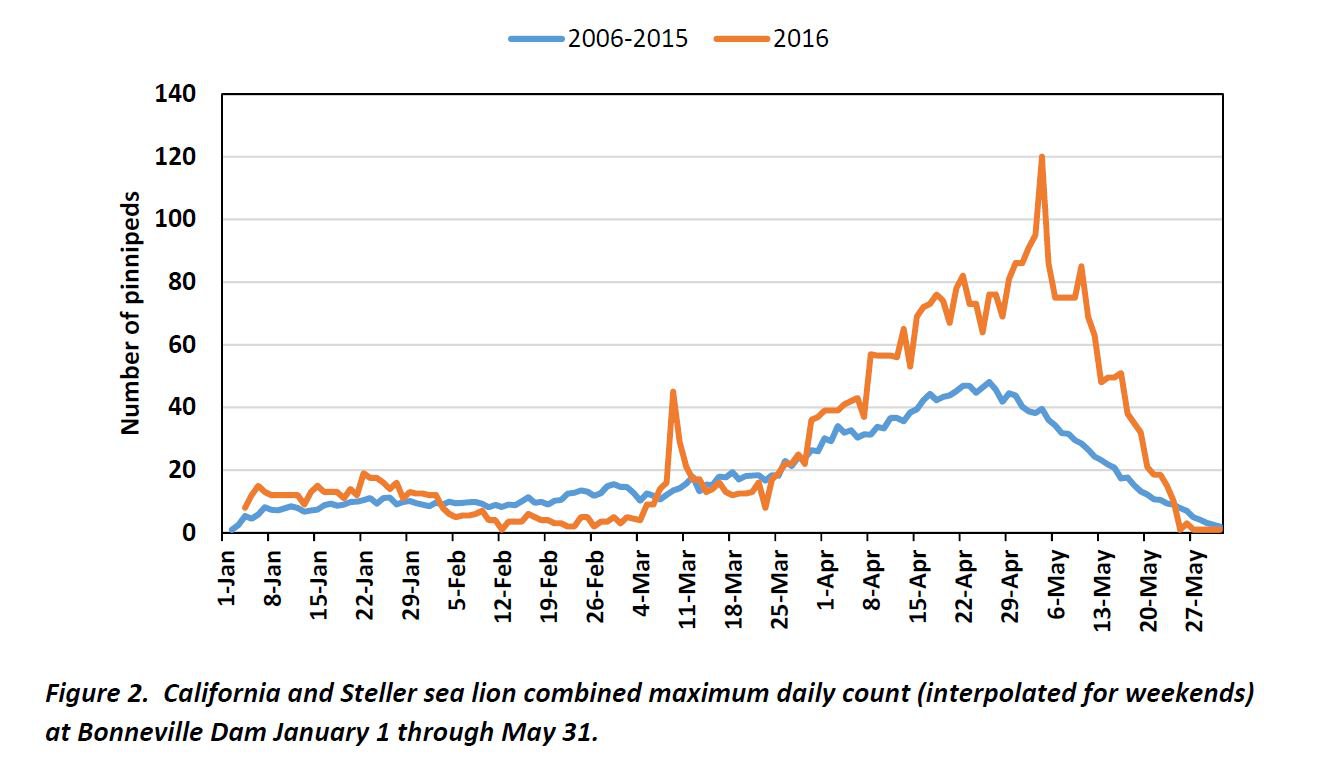 During the last two weeks of May, sea lions steadily moved out of the area, according to the report. The number of California sea lions observed on a single day peaked on May 4 at 66 and had declined to just one by the end of the month. The number of the larger Steller sea lions peaked at 54, also on May 4, and their numbers also had rapidly declined through the end of the month. The combined total on May 4 – 120 – beat the previous single-day record at the dam, 116 on April 22 last year.
As the sea lions left, the number of observed fish catches declined, too. The January-though-May total was 4,094 Chinook salmon and 102 steelhead. Observations cannot be made 24 hours a day so the estimated total, expanded to account for those hours when observers were not present, is 8,986 fish. The Corps estimates California sea lions took 6,267 of these (71 percent), and Stellers took 2,459 (29 percent).
The expanded total represents about 5.5 percent of the estimated salmon and steelhead migration and also is about double the recent 10-year average catch, the Corps reported.
There also were 231 observed lamprey catches, 191 by California sea lions and 40 by Stellers, and an estimated 86 sturgeon catches. The sturgeon predation was much below the 10-year average.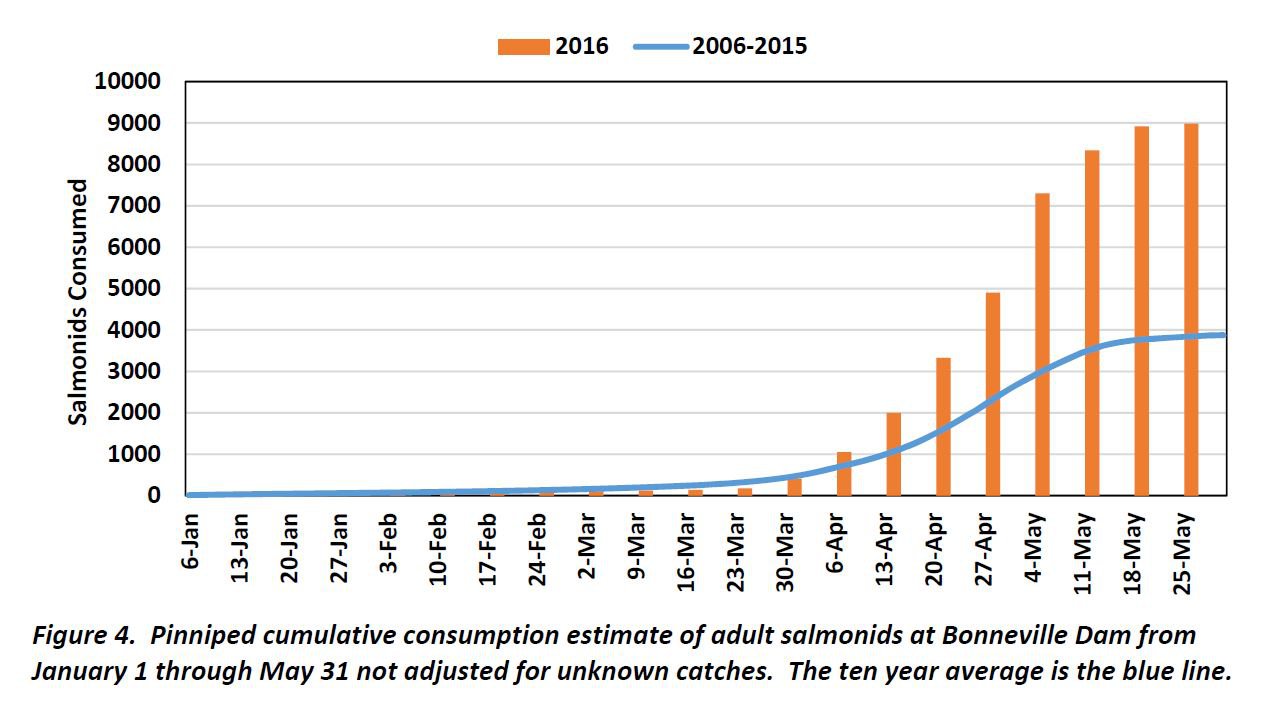 Boat-based hazing by Columbia River Inter-Tribal Fish Commission began on March 7 and finished for the year on May 16th. Dam-based hazing by the USDA began on March 8 and ran through May 31. Sea lion management activities by the states of Oregon and Washington concluded at Bonneville on May 24. A total of 59 of the most aggressive California sea lions were removed in 2016 under a federal permit. A total of 50 California sea lions were branded at Bonneville in 2016 for future identification.