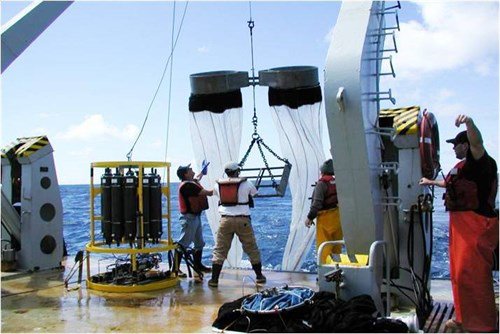 This week the Council's Ocean and Plume Science and Management Forum conducted its first meeting, beginning the task of identifying fisheries management implications of ocean research and priorities for future research. The Forum is expected to produce a list of priority critical uncertainties with clear and measureable hypotheses that can be reflected in the Council's research plan and considered for future funding.
The forum includes scientists and fish managers from state and federal agencies, tribes, and the Canadian federal fisheries agency. Information about the forum is posted on a dedicated page on the Council's website.
The Council approved a charter for the forum in August. Creating the forum as an advisory committee to the Council is an outcome of the Council's review in 2010 of all research, monitoring, and evaluation projects in the Columbia River Basin Fish and Wildlife Program. That review identified a need to develop a better understanding of research on the effects of the ocean environment on salmon and steelhead from the Columbia River Basin and led to a report by researchers that synthesized various ocean research efforts. Following a workshop on ocean research, the Council's Fish and Wildlife Committee requested development of the Ocean and Plume Science and Management Forum charter. The charter will expire in two years unless it is renewed by the Council.
At its initial meeting, chaired by Phil Rockefeller, who also chairs the Council's Fish and Wildlife Committee, forum members noted the importance of data from ocean research in making decisions about management of salmon and steelhead in the freshwater environment. To that end, the forum's charter establishes four key tasks:
Identify key information needs for research into fish-management questions that would help implement the fish and wildlife program.
Identify critical scientific uncertainties and develop a prioritized list of studies to address the uncertainties.
Identify and provide opportunities for information sharing between ocean and plume researchers and estuary and freshwater managers.
Identify management applications of ocean and plume information, including existing and yet-to-be-collected information such as fish-harvest impacts on the Columbia River Basin ecosystem.