In a word, the outlook for Columbia River salmon in 2016 is good. Not great as in some recent years, but good as in average or better for most species.
Again this year, as in recent years, Chinook salmon will make up the bulk of the run, Bill Tweit of the Washington Department of Fish and Wildlife told the Council this week. Tweit and his counterparts from Oregon and Idaho reported to the Council on current run-size predictions.
"The total returns this year are predicted to be well above average, potentially as many as 2.1 million fish -- not quite the eye-popping numbers we've seen in the previous years but still very healthy, driven again by fall Chinook, " Tweit said. The fall Chinook forecast is for 951,200 fish, with 756,300 of those returning to spawning areas above Bonneville Dam. That's less than the 1.3 million (1.1 million above Bonneville) that returned in 2015, but still impressive.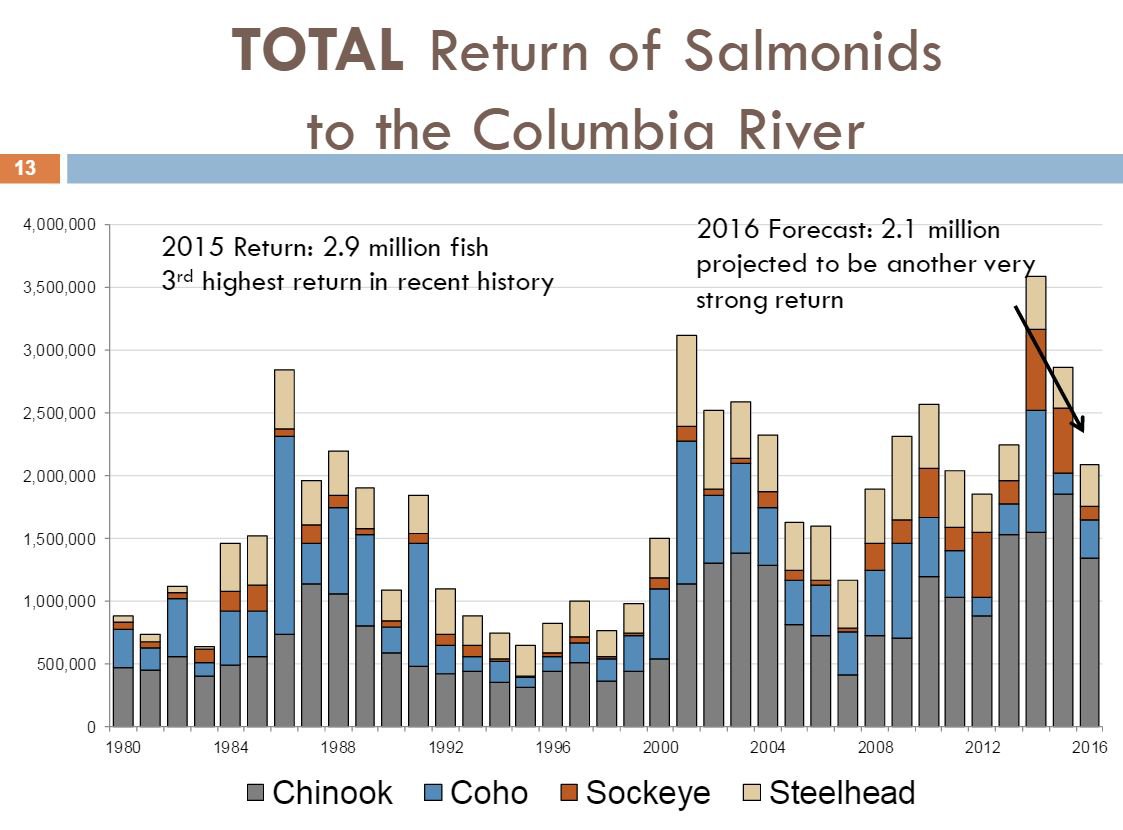 Figure: Washington Department of Fish and Wildlife
Tweit said that optimism for another good year should be tempered with the understanding that salmon productivity is cyclical depending on conditions in the ocean, where salmon spend most of their lives. "We know things won't stay as good as they currently are, but for now we certainly are enjoying the harvests and the numbers," he said.
NOAA Fisheries scientists have reported that the ocean is warming, leading to a decline in the abundance and nutritional value of food for salmon. Even if conditions continue to worsen, though, there is reason for optimism that salmon runs won't plummet as they did during the warm period of the mid 1990s, Tweit said. Thanks to improvements in habitat conditions and hatchery practices since then, runs are stronger and more resilient to environmental impacts today.
Other forecasts noted by the state fisheries managers included:
The sockeye forecast is 101,600 fish, about one-fifth the huge return of last year. Their success will depend on Columbia River conditions, which turned lethal last summer when water temperatures rose above 70 degrees — lethal for salmon — and more than a quarter million died before they could reach spawning grounds.
Upper Columbia spring Chinook: 188,800 forecast, less than the 289,000 that returned in 2015.
Upriver summer steelhead: 265,400 forecast, about the same as in 2015.
Wild winter steelhead: 16,900 forecast, a little less than last year.
Coho: about 300,000 forecast (about 30 percent returning to above Bonneville), which is better than the 2015 return of 171,400.
Snake River salmon returns should be average or better.